I grew up in Black Creek, a small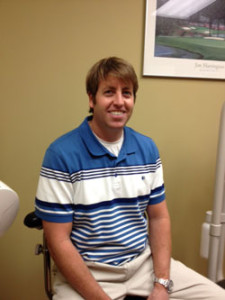 community on Vancouver Island before moving to Courtenay and finally settling in Nanaimo. After completing my B.Science degree in Toronto at McGill University, I attended dental school at U.B.C. in Vancouver and graduated in 2002.
I promptly moved back to Vancouver Island – the best place in the world to live. I have enjoyed the practice of dentistry immensely and truly appreciate all the patients I have known over the years and continue to meet every day. Going to work is exciting, and I take pride in providing and promoting the best dental care which contributes to the overall wellness and health our wonderful patients.
I enjoy spending time with my wife and 2 children on our 5 acre farm in Nanoose Bay. My hobbies include fly fishing, cycling, golfing and camping. My family and I love exploring the numerous beautiful lakes on Vancouver Island.
I am proud to be a part of the great group of people that comprise  Oceanside Dental.